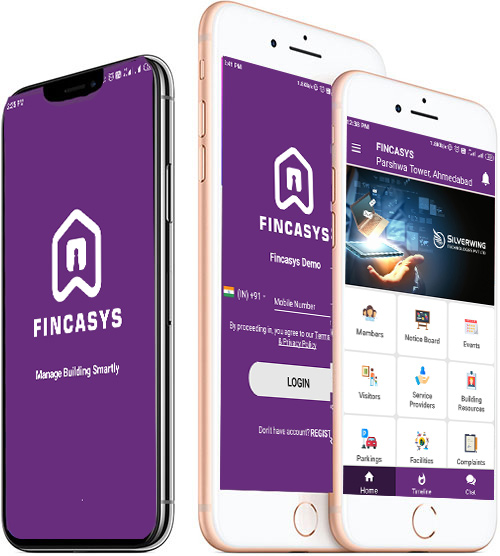 Easy to use
A GREAT & EASY SOLUTION FORYOUR BUILDING MANAGEMENT
Value Addition propelling your Brand
Earning Model for society
Transparency in Operations
Stay Connected & Build Bonds
FINCASYS FEATURES
Society Accounting
Automated Billing, Track Income & Expenses, Generate all Financial Statements, Reports.
Payment Gateway
App provide a digital/online payment gateway for payment of maintenance amount, different bills within the society.
Gatekeeper Management
Gatekeeper App we provide the digital intercom facility. With online Visitor registry & information.
Lost & Found
Post data regarding and item - Lost or Found with Photos.
Visitors
Add Expected Visitor and Share Access Code via WhatsApp or Message for secure entry. Notify Gatekeeper about the Visitor
Communication
Communication can be between Society authority, Gatekeeper and Resident VIA voice call, app call, video call.
Complaint & Facility
Resident can log any Complaint from there app and that can track & process by society incharge.
Events & Announcement
Society incharge can easily send meeting schedule, any other event schedule where ask about presence or not.
Rent/Sell
View Property for Rent / Sell of your Building. Post your Property for Rent/Sell.
Occupation
Get to Know the Profession of Building Members here along with Filter through Categories.